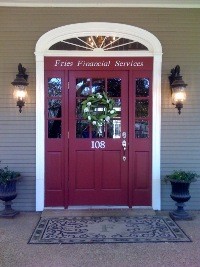 Welcome to Fries Financial Services, a full-service company specializing in retirement planning and estate conservation.
As personal financial professionals, we can:
• Help you clarify and define your goals
• Recommend solutions that fit your needs
• Deliver timely information
• Explain how changing financial conditions affect you
• Monitor your financial progress
Feel free to browse our site. You'll find a variety of articles, calculators, and research reports that we hope will answer your questions or stimulate your interest. If you have any questions, please call us at (979) 846-8395 or e-mail us at service@friesfinancial.com. We will be happy to help. We look forward to talking with you.
Client Login 
Below is a link to our Fact Finder for Prospective Clients. Please fill out and email to service@friesfinancial.com at your earliest convenience. 
Discover how a living will and durable powers of attorney for health care and finances can help ensure your wishes are carried out.

This article offers ideas to help investors focus on strategic decisions rather than react emotionally to the latest market news or movements.

2020 market turbulence underscores the importance of reviewing an investment portfolio. These five steps could help keep it on track.

A look at the financial, emotional, and physical costs of family caregiving with some helpful suggestions for caregivers.
Compare the potential future value of tax-deferred investments to that of taxable investments.

Use this calculator to determine whether you qualify for the different types of IRAs.

How Long Will Your Funds Last?

Calculate the rate of return you would have to receive from a taxable investment to realize an equivalent tax-exempt yield.