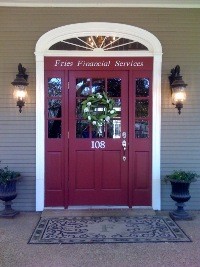 Welcome to Fries Financial Services, a full-service company specializing in retirement planning and estate conservation.
As personal financial professionals, we can:
• Help you clarify and define your goals
• Recommend solutions that fit your needs
• Deliver timely information
• Explain how changing financial conditions affect you
• Monitor your financial progress
Feel free to browse our site. You'll find a variety of articles, calculators, and research reports that we hope will answer your questions or stimulate your interest. If you have any questions, please call us at (979) 846-8395 or e-mail us at service@friesfinancial.com. We will be happy to help. We look forward to talking with you.
Client Login 
Below is a link to our Fact Finder for Prospective Clients. Please fill out and email to service@friesfinancial.com at your earliest convenience. 
ETFs have some attractive features that set them apart from mutual funds, but there are also cost and risk factors to consider.

Some strategies to help fixed-income portfolios weather a period of interest rate uncertainty.

The New Year might be a good time to review and update beneficiaries on estate documents, insurance policies, and financial accounts.

An overview of Section 529 savings plans, including their traditional use for college saving and the new rules for K-12 tuition.
Estimate the future value of your current savings.

Calculate the rate of return you would have to receive from a taxable investment to realize an equivalent tax-exempt yield.

Compare the potential future value of tax-deferred investments to that of taxable investments.

Knowing your likely life expectancy is an important factor in making long-term financial plans.