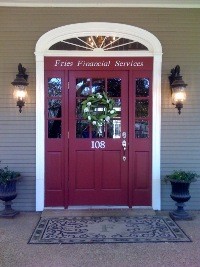 Welcome to Fries Financial Services, a full-service company specializing in retirement planning and estate conservation.
As personal financial professionals, we can:
• Help you clarify and define your goals
• Recommend solutions that fit your needs
• Deliver timely information
• Explain how changing financial conditions affect you
• Monitor your financial progress
Feel free to browse our site. You'll find a variety of articles, calculators, and research reports that we hope will answer your questions or stimulate your interest. If you have any questions, please call us at (979) 846-8395 or e-mail us at service@friesfinancial.com. We will be happy to help. We look forward to talking with you.
Client Login 
Below is a link to our Fact Finder for Prospective Clients. Please fill out and email to service@friesfinancial.com at your earliest convenience. 
Universal life and variable universal life insurance have risks and potential benefits, including a death benefit with a tax-advantaged savings element.

Explore an overview of rules and tax consequences for 401(k) plan hardship distributions and other early withdrawals.

Cloud computing functions could help small companies increase productivity with smaller up-front costs.

A business plan can be an important step toward success. Here are some key components to consider.
Estimate the potential cost of waiting to purchase a long-term care insurance policy.

Knowing your likely life expectancy is an important factor in making long-term financial plans.

This calculator can help you estimate your annual federal income tax liability.

How Long Will It Take to Pay my Balance?