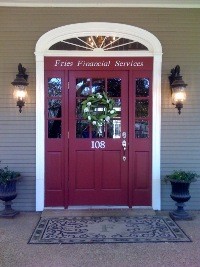 Welcome to Fries Financial Services, a full-service company specializing in retirement planning and estate conservation.
As personal financial professionals, we can:
• Help you clarify and define your goals
• Recommend solutions that fit your needs
• Deliver timely information
• Explain how changing financial conditions affect you
• Monitor your financial progress
Feel free to browse our site. You'll find a variety of articles, calculators, and research reports that we hope will answer your questions or stimulate your interest. If you have any questions, please call us at (979) 846-8395 or e-mail us at service@friesfinancial.com. We will be happy to help. We look forward to talking with you.
Client Login 
Below is a link to our Fact Finder for Prospective Clients. Please fill out and email to service@friesfinancial.com at your earliest convenience. 
Discover four ways to incorporate charitable giving into an overall financial plan that fulfills a family's wish to "give back."

Medicare and Medicaid may seem similar, but what each program pays for and for whom can be very different.

Do you have a will? If not, this article offers three key reasons why you should.

This article explains some of the key information provided on a personalized Social Security Statement.
How much can you afford to pay for a car?

How much would your monthly lease payment be?

Use this calculator to estimate the cost of your child's education, based on the variables you input.

Will you be able to afford nursing home care?