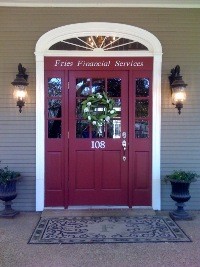 Welcome to Fries Financial Services, a full-service company specializing in retirement planning and estate conservation.
As personal financial professionals, we can:
• Help you clarify and define your goals
• Recommend solutions that fit your needs
• Deliver timely information
• Explain how changing financial conditions affect you
• Monitor your financial progress
Feel free to browse our site. You'll find a variety of articles, calculators, and research reports that we hope will answer your questions or stimulate your interest. If you have any questions, please call us at (979) 846-8395 or e-mail us at service@friesfinancial.com. We will be happy to help. We look forward to talking with you.
Client Login 
Below is a link to our Fact Finder for Prospective Clients. Please fill out and email to service@friesfinancial.com at your earliest convenience. 
Discover how a living will and durable powers of attorney for health care and finances can help ensure your wishes are carried out.

The SECURE Act could make it easier and more affordable for business owners to provide retirement plans and help their employees save for retirement.

If you are self-employed, do you know how to calculate quarterly estimated tax payments in order to avoid underpayment penalties?

This article explores how life insurance might help small businesses attract and retain talent or fund buy-sell agreements.
Estimate the future value of your current savings.

Use this calculator to estimate how much income and savings you may need in retirement.

Estimate the annual required distribution from your traditional IRA or former employer's retirement plan after you turn age 72.

Will you be able to afford nursing home care?