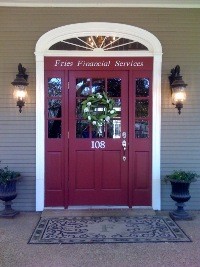 Welcome to Fries Financial Services, a full-service company specializing in retirement planning and estate conservation.
As personal financial professionals, we can:
• Help you clarify and define your goals
• Recommend solutions that fit your needs
• Deliver timely information
• Explain how changing financial conditions affect you
• Monitor your financial progress
Feel free to browse our site. You'll find a variety of articles, calculators, and research reports that we hope will answer your questions or stimulate your interest. If you have any questions, please call us at (979) 846-8395 or e-mail us at service@friesfinancial.com. We will be happy to help. We look forward to talking with you.
Client Login 
Below is a link to our Fact Finder for Prospective Clients. Please fill out and email to service@friesfinancial.com at your earliest convenience. 
Steps to be better positioned for turbulent events such as inflation, roller-coaster markets, and global events — and hopefully emerge even stronger.

This article discusses recent trends affecting the automotive market and includes suggestions for those who want to purchase a vehicle.

Have you thought about starting your own business? Here's an overview of some important first steps in the entrepreneurial process.

Discover how a 2022 IRS tax reporting change could affect people who are self-employed or whose side job pays through an app or online platform.
Compare the potential future value of tax-deferred investments to that of taxable investments.

Estimate the annual required distribution from your traditional IRA or former employer's retirement plan after you turn age 72.

This calculator can help you determine whether you should consider converting to a Roth IRA.

Calculate the rate of return you would have to receive from a taxable investment to realize an equivalent tax-exempt yield.