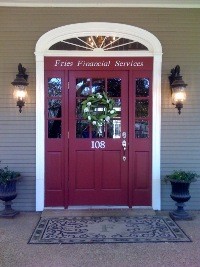 Welcome to Fries Financial Services, a full-service company specializing in retirement planning and estate conservation.
As personal financial professionals, we can:
• Help you clarify and define your goals
• Recommend solutions that fit your needs
• Deliver timely information
• Explain how changing financial conditions affect you
• Monitor your financial progress
Feel free to browse our site. You'll find a variety of articles, calculators, and research reports that we hope will answer your questions or stimulate your interest. If you have any questions, please call us at (979) 846-8395 or e-mail us at service@friesfinancial.com. We will be happy to help. We look forward to talking with you.
A discussion of the economic issues surrounding the British exit from the EU, and the impact on financial markets.

Socially conscious investing strategies can help investors build a portfolio that aligns with their personal values.

The appeal of money market mutual funds despite yields near zero since the recession.

Tips to help parents teach their children about personal finance.