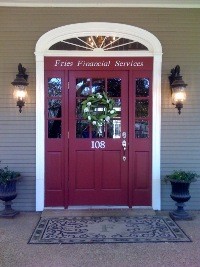 Welcome to Fries Financial Services, a full-service company specializing in retirement planning and estate conservation.
As personal financial professionals, we can:
• Help you clarify and define your goals
• Recommend solutions that fit your needs
• Deliver timely information
• Explain how changing financial conditions affect you
• Monitor your financial progress
Feel free to browse our site. You'll find a variety of articles, calculators, and research reports that we hope will answer your questions or stimulate your interest. If you have any questions, please call us at (979) 846-8395 or e-mail us at service@friesfinancial.com. We will be happy to help. We look forward to talking with you.
Client Login 
Below is a link to our Fact Finder for Prospective Clients. Please fill out and email to service@friesfinancial.com at your earliest convenience. 
Bond laddering is a time-tested strategy that can help manage interest rate risk.

Before leaving for college, be sure your student has his/her insurance needs (medical, auto, personal property) addressed.

Settling an estate can be a difficult and time-consuming job as there are some specific duties that often fall on an executor.

A Medigap policy or a Medicare Advantage Plan could help provide more stability for health-care spending during retirement.