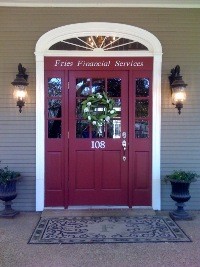 Welcome to Fries Financial Services, a full-service company specializing in retirement planning and estate conservation.
As personal financial professionals, we can:
• Help you clarify and define your goals
• Recommend solutions that fit your needs
• Deliver timely information
• Explain how changing financial conditions affect you
• Monitor your financial progress
Feel free to browse our site. You'll find a variety of articles, calculators, and research reports that we hope will answer your questions or stimulate your interest. If you have any questions, please call us at (979) 846-8395 or e-mail us at service@friesfinancial.com. We will be happy to help. We look forward to talking with you.
When it comes to taxes, the giver could face tax liabilities that do not apply to the receiver.

Having proper legal documents in place can help when you are unable to make your own medical and financial decisions.

Almost half of investors consider themselves "novices" when it comes to ETFs. This article explains how ETFs work.

Workers aged 50 and older can give their retirement savings a boost by taking advantage of catch-up contributions.